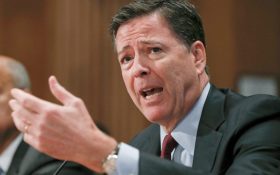 Revealed! Here's what James Comey will say tomorrow ("I want loyalty")
In his first time speaking out since his firing, ex-FBI Director James Comey is scheduled to testify Thursday, June 8th in front of the Senate Intelligence Committee at 10 a.m. — and his
opening testimony was just released.
Former FBI Director James Comey will say in his opening statement that President Donald Trump told him, "I need loyalty. I expect loyalty" during a January dinner, according to documents released a day ahead of his planned testimony.
In the statement, Comey said he and Trump dined together privately in January. During the meal, he said Trump asked him if he wanted to remain on as FBI director. Comey said he replied that he wanted to serve out his ten-year term and "was not on anybody's side politically."
Comey said Trump then made his statement about loyalty. Comey replied that he could offer his honesty, and that when Trump said he wanted "honest loyalty," Comey paused and said, "You will get that from me."
Trump fired Comey on May 9th due to his failures in investigating failed Democratic nominee Hillary Clinton's email scandal.
But since then, liberals have speculated that the ouster had more to do with Comey's investigation into Trump's administration's alleged colluding with the Russians.
As the former head of the investigation into the alleged Russian election meddling, Comey is one of the best informed individuals on the matter, and will face questions regarding his involvement in the investigation, likely focusing on Trump's purported influence.
While there's been wild speculation from the left, Comey will not go as far as to accuse Trump of obstruction of justice, according to
ABC News
.
The speculation stemmed from the rumors that Trump interfered with the FBI's investigation into former national security adviser Michael Flynn, but Comey will put that to rest.
A source told ABC, "He is not going to Congress to make accusations about the president's intent, instead he's there to share his concerns."
Trump announced earlier Wednesday that he has named Christopher Wray as the new FBI Director to succeed Comey.
His full opening testimony can be read
here
.
The Associated Press contributed to this article.
Comments