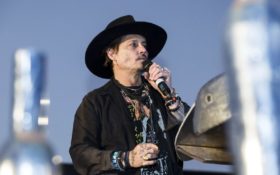 Insane! 5 liberal celebs demand Trump's murder
Liberal celebrities have already proven they are out-of-touch with the average American.
Ever since President Donald Trump's election, though, these morons have proven to be completely out-of-touch with reality!
Multiple Hollywood elites have come out threatening violence against the president, and Johnny Depp is the latest wacko to think this is acceptable.
Depp took time away from promoting his latest Pirates of the Caribbean flop to attend the Glastonbury Festival in England Thursday, where he made an inappropriate threat against Trump.
"Can we bring up Trump here?" he asked the crowd. "I think he needs help."
While he could've stopped at this subtle criticism, he decided to take it to a new level, referencing President Abraham Lincoln's murderer John Wilkes Booth.
"When was the last time an actor assassinated a president?" he asked the cheering crowd.
While it's a known fact that it's the job of celebrities to get attention, a line should be drawn at encouraging any form of violence… especially the murder of our nation's democratically-elected president!
Is there no decency anymore?
Depp isn't alone. There are multiple brain dead celebs who will go that far, just to see their name in the headlines.
Here are 5 other Hollywood morons who decided encouraging the death of the president was a good idea:
1. Kathy Lee Griffin

–

This kind of imagery is what madmen like John Wilkes Booth feed off of, and Griffin was further pushing that assassination narrative. When she was universally called out for the disgusting act of "art"

she apologized, in the most cowardly way possible.

After numerous appearance cancellations and a firing from her job at CNN, Griffin held a press conference where she blamed sexism and white men for her problems. She whined that she had been getting death threats, and that the Trump family was ruining her life. Did she forget who started it… with a death threat!? Hypocrite.
2. Madonna

–

While the crowd cheered on her death threat, the Secret Service wasn't laughing. A spokesman told The Gateway Pundit "an investigation would be opened but that the decision to prosecute rests with the U.S. Attorney's office."

Obviously, Madonna wasn't prosecuted, but this should have been a message to all celebrities that this violent rhetoric will not be tolerated, and will be investigated.
3. Snoop Dogg-
In another stretched definition of "art," rapper Snoop Dogg released a music video which shows him shooting a toy gun at a Trump character that releases the word "bang." While this is far from the graphic nature of Griffin's bloody photo, the message is clear.
Trump himself responded, tweeting,
4. Charlie Sheen

–

As the world mourned the deaths of actresses Debbie Reynolds and Carrie Fisher, troubled actor Charlie Sheen took to Twitter to pray that God kill Trump —

It was a bizarre stunt for Sheen, but still just a continuation of his horrible decisions.
5. Mickey Rourke

–

In an unhinged rant, actor Mickey Rourke went told journalists in explicit detail how he would beat Trump with a baseball bat.

TMZ caught the whole thing on tape, in which Rourke can be heard saying Trump is "the biggest scumbag on the planet," and calling First Lady Melania Trump a "golddigger."

With the recent shooting of Representative Steve Scalise at a Republican baseball practice, it's obvious the liberal rhetoric needs to be toned down.

Our country is incredibly divided, and those that have been granted a world stage on which to have their voice heard shouldn't be further pushing this dangerous agenda.

But try teaching logic to any of these out of touch Hollywood elites…

— The Horn editorial team